Description
Ages 10 and up
Format Options: Printed Book or Ebook
232 pages, with 15 black and white illustrations
A tragic accident leaves fun-loving Jill and good-natured Jack cooped up for months. During this time they learn some valuable lessons and are cheered up by their friends. Jill and her two friends begin a missionary society, while Jack helps a troubled youth stay on the straight and narrow. Louisa May Alcott has done an excellent job of showing the real life of children during the 1800s. Originally published in 1880 this timeless tale is just as inspiring and enjoyable today as when it was first written.
About the Author
Louisa May Alcott was born in 1832. She was an imaginative child who loved to make up stories. During the American Civil War she served as a nurse. In 1863 she wrote about her experiences in Hospital Sketches. Her real success came a few years later with the publication of Little Women in 1868. From that time until her death in 1888 she continued to write books for children.
"Miss Alcott has a faculty of entering into the lives and feelings of children that is conspicuously wanting in most writers who address them." ~Mrs. Sarah J. Hale, author of Mary Had a Little Lamb
"A book superior to Little Women! Louisa May Alcott was a rare author who truly made the lives of children come to life. This is one of her rare treasures that needs to be discovered by a whole new generation of boys and girls." ~ Amy Puetz Fox, author of Uncover Exciting History
FREE Bonus Ebook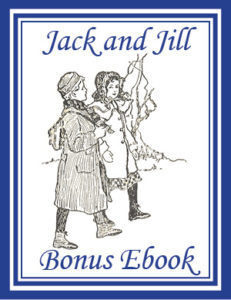 Jack and Jill Bonus Ebook
Learn how to play some of the games mentioned in the book, cook some of the recipes, and read some of the stories and poems. This short twenty page ebook contains several extras that will bring the world of Jack and Jill to life.